Imagine losing your make up bag, all the favourite and faithful products you've been collecting and spending your hard earned money on. Then gone.
How awful would that be? Well this happened to me on Sunday I met up with my best friend in London and we went to our favourite place the Bluebird in Chelsea. It's wonderful there and we always have a good time, a long overdue catch up with a beautiful roast and wine.
Perfect - anyway all was perfect until I left my make up bag containing all my favourites in the toilet and what's even worst is that I didn't realise until Monday morning. (Blaming the wine for that one). Cue utter dispare and frantic whatapps to said friend and phone calls to the restaurant but still no make up bag.
I've spent the last couple of evenings online shopping replacing my favourites (Nars Laguna Bronzer and Mac Prolongwear concealer are two I can't live without) which lead me to compile a rather wonderful wish list of 'if money was no object' I'd buy them all now products:
Here's what I need/want:
1. Givenchy Teint Couture Compact Foundation £38.50
The beautiful packaging led me to this one, I'm not really a compact foundation wearer (I prefer a liquid and a brush) but this one has some great reviews I like the fact you can take it with you for retouches. Defentely worth a closer look.
2. By Terry Eye Designer Palette - Smokey Nude £69
I didn't lose any eyeshadow but that's not stopped me from lusting after this sumpulous palette. All the colours look beautiful and I'm sure I would use all of them unlike some palettes where you just pick your favourites and the others go neglected. Its super pricey thou at £69 so this one may have to stay on the wishlist for a while.
3. Hourglass Ambient Lighting Blush - Dim Infusion £28
I'm fast becoming an Hourglass fan after using the 'Veil Mineral Primer' on holiday and a I like that its a buildable product the creates multidimensional colour (wow) bet this would look beautiful on and great in photos. The packaging is also very luxe.
(Ok so this one actually just fell into my shopping basket so I'll let you know how I get on with it)
4. Tom Ford Lipstick - Nude Vanilla £37
I don't own any Tom Ford lipsticks (yet) maybe its because they are £37 each but since Khole Kardashian apparently wears this shade its been on my beauty radar and hopefully on my next trip to London I may just treat myself. I'll just try not to loose this one.
5. Tom Ford Shade and Illuminate £56
My friend has this and her make up always looks amazing so I have face envy and should really make this one top of my list. I love the fact its a cream product which is so much easier to blend for contouring rather than powder which can sometimes lead to a stripy face.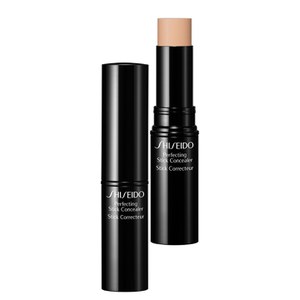 Shiseido Perfecting Stick Concealer £24
Again Ive heard lots of good things about this concealer. I like a stick concealer they are easy to blend and tend to last quite a while. I like the fact it covers under eye shadows and blemishes of which I have both. I've only seen this online though and would need to test in real life to get a feel for coverage and match my colour.
I could go on and on listing products but for now these are the ones I'd like. Have you tried any of the above products? What's on your wish list?
Love L x